How to add an emoticon 🌻📈💘 (colored symbols) in the title or content: GMail, Facebook, YouTube, Tweeter.. 👍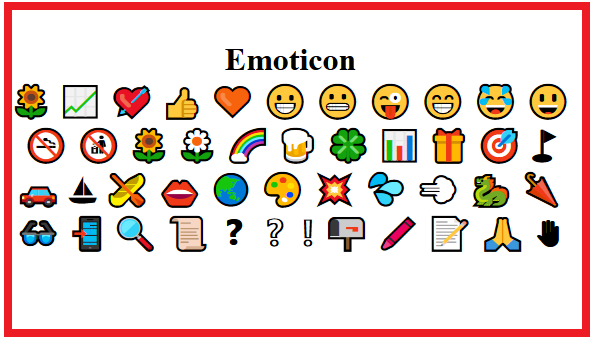 Using emoticons (colored icons) 🛠 is very simple. It does not require any magic codes or any special techniques.
I have been delighted myself for many years, when I received an email with icons in the title, I tried to find information on how to do it. I have known for a long time that the solution is very simple, but there are few publications on this subject, which is why I share it with you:
To place an emoticon
you copy & paste emoticons to any place
in your title or text.
That's all you have to do. ❗ ❕ ❗
Emoticon (small graphic icons) are actually one or a few special characters that are nicely displayed by browsers. Sometimes, in different systems, the appearance may be slightly different or part of the characters may not be displayed properly if you are not using the latest browsers. The number of available symbols increases all the time 📈.
Below you can also find:
Emoticon list – a collection of the most-available icons for use in texts,
Why use emoticons? – a few explanations why it is worth using,
Historical note – a few facts from the past that you may want to know about,

Below is a large collection of emoticons grouped thematically. This will make it easier to find the matching symbol.
😀 😬 😁 😂 😃 😄 🤣 😅 😆 😇 😉 😊 🙂 🙃 ☺ 😋 😌 😍 😘
😗 😙 😚 🤪 😜 😝 😛 🤑 😎 🤓 🧐 🤠 🤗 🤡 😏 😶 😐 😑
😒 🙄 🤨 🤔 🤫 🤭 🤥 😳 😞 😟 😠 😡 🤬 😔 😕 🙁 ☹ 😣
😖 😫 😩 😤 😮 😱 😨 😰 😯 😦 😧 😢 😥 😪 🤤 😓 😭 🤩
😵 😲 🤯 🤐 😷 🤕 🤒 🤮 🤢 🤧 😴 😈 👿 👹 👺 💩 👻 💀
☠ 👽 🤖 🎃 😺 😸 😹 😻 😼 😽 🙀 😿 😾
👐 🤲 🙌 👏 🙏 🤝 👍 👎 👊 ✊ 🤛 🤜 🤞 ✌ 🤘 🤟 👌
👈 👉 👆 👇 ☝ ✋ 🤚 🖐 🖖 👋 🤙 💪 🖕 ✍ 🤳 💅
👀 👁 👅 👄 💋 👂 👃 👣 🧠
💘 ❤ 💓 💔 💕 💖 💗 💙 💚 💛 🧡 💜 🖤 💝
💞 💟 ❣ 💟❣ 💌 👩‍❤‍💋‍👨 👨‍❤‍💋‍👨 👩‍❤‍💋‍👩 👩‍❤‍👨 👨‍❤‍👨 👩‍❤‍👩
💫 🗣 💬 🗨 🗯 💭
⌛ ⏳ 🛎 ⌚ ⏰ ⏱ ⏲ 🕰 🕛 🕧 🕐 🕜 🕑 🕝 🕒 🕞 🕓 🕟 🕔
🕠 🕕 🕡 🕖 🕢 🕗 🕣 🕘 🕤 🕙 🕥 🕚 🕦 📅 📆 🗒🗓 📇
🎃 🎄 🎆 🎇 ✨ 🎈 🎉 🎊 🎋 🎍 🎎 🎏 🎐 🎑 🎀 🎁 🎗 🎟 🎫
📔 📕 📖 📗 📘 📙 📚 📓 📒 📃 📜 📄 📰 🗞 📑 🔖
🏷 ✉ 📨 📧 📩 📤 📥 📦 📫 📪 📬 📭 📮 🗳 ✏ ✒
🖋 🖊 🖌 🖍 📝 💼 🗃 🗄 🗑 🔠 🔡 🔢 🔣 🔤
‼ ⁉ ❓ ❔ ❕ ❗ 〰 © ® ™ 🆒 🆓 ℹ 🆔 Ⓜ 🆕
🆖 🅰 🆎 🅱 🆑 🅾
🆗 🅿 🆘 🆚 👍 🆙
📈 📉 📊 〽
☢ ☣ ⬆ ↗ ➡ ↘ ⬇ ↙ ⬅ ↖ ↕ ↔ ↩ ↪ ⤴ ⤵
🔃 🔄 🔙 🔚 🔛 🔜 🔝 🔀 🔁 🔂
▶ ⏩ ⏭ ⏯ ◀ ⏪ ⏮ 🔼 ⏫ 🔽 ⏬ ⏸ ⏹ ⏺ ⏏
🎦🔅 🔆 📛 🔰 ⭕ ✅ ☑ ✔ ✖ ❌ ❎ ➕ ➖ ➗ ➰ ➿
〽 ✳ ✴ ❇ ‼ ⁉ ❓ ❔ ❕ ❗ 〰 © ® ™
*⃣ 0⃣ 1⃣ 2⃣ 3⃣ 4⃣ 5⃣ 6⃣ 7⃣ 8⃣ 9⃣ 🔟 💯 🈁 🈂 🈷 🈶 🈯
🉐 🈹 🈚 🈲 🉑 🈸 🈴 🈳 ㊗ ㊙ 🈺 🈵 ▪ ▫ ◻ ◼ ◽ ◾
⬛ ⬜ 🔶 🔷 🔸 🔹 🔺 🔻 💠 🔘 🔲 🔳 ⚪ ⚫ 🔴 🔵
💤 💢 💣 🕳 🔒 🔓 🔏 🔐 🔑 🗝
🔨 ⛏ ⚒ 🛠 🗡 ⚔ 🔫 🏹 🛡 🔧 🔩 ⚙ 🗜 ⚗ ⚖ 🔗 ⛓
💉 💊 🚬 ⚰⚱ 🗿 🛢 🔮 ⚕ 💤 💢 💣 🕳
🔒 🔓 🔏 🔐 🔑 🗝 🔨 ⛏ ⚒ 🛠 🗡 ⚔ 🔫 🏹
🛡 🔧 🔩 ⚙ 🗜 ⚗ ⚖ 🔗 ⛓ 💉 💊 🚬 ⚰⚱ 🗿 🛢 🔮 ⚕
🏧 🚮 🚰 ♿ 🚹 🚺 🚻 🚼 🚾 🛂 🛃 🛄 🛅 ⚠ 🚸
⛔ 🚫 🚳 🚭 🚯 🚱 🚷 📵 🔞
🛐 ⚛ 🕉 ✡ ☸ ☯ ✝ ☦ ☪☮ 🕎 🔯
♈ ♉ ♊ ♋ ♌ ♍ ♎ ♏ ♐ ♑ ♒ ♓ ⛎
🤴 👸 👳‍♂ 👳‍♀ 👲 🧕 🧔 👱‍♂ 👱‍♀ 🤵 👰 🤰 🤱 👼 🎅 🤶 🧙‍♀
🧙‍♂ 🧚‍♀ 🧚‍♂ 🧛‍♀ 🧛‍♂ 🧜‍♀ 🧜‍♂ 🧝‍♀ 🧝‍♂ 🧞‍♀ 🧞‍♂ 🧟‍♀ 🧟‍♂ 🙍‍♂🙍‍♀ 🙎‍♂ 🙎‍♀ 🙅‍♂🙅‍♀
🙆‍♂ 🙆‍♀ 💁‍♂ 💁‍♀ 🙋‍♂ 🙋‍♀ 🙇‍♂ 🙇‍♀ 🤦‍♂ 🤦‍♀ 🤷‍♂ 🤷‍♀ 💆‍♂ 💆‍♀ 💇‍♂ 💇‍♀ 🚶‍♂
🚶‍♀ 🏃‍♂ 🏃‍♀ 💃 🕺 👯‍♂ 👯‍♀ 🧖‍♀ 🧖‍♂ 🛀 🛌 🕴 👤 👥 👫 👬 👭 🧙‍♀ ♀ ♂
🎖 🏆 🏅 🥇 🥈 🥉 ⚽ ⚾ 🏀 🏐 🏈 🏉 🎾 🎱 🎳 🏏 🏑 🏒
🏓 🏸 🥊 🥋 🥅 🎯 ⛳ ⛸ 🎣 🎽 🎿 🛷 🥌 🎮 🕹 🎲 ♠ ♥
♦♣ 🃏 🀄 🎴 🤺 🏇 ⛷ 🏂 🏌‍♂ 🏌‍♀ 🏄‍♂ 🏄‍♀ 🚣‍♂🚣‍♀ 🏊‍♂ 🏊‍♀ ⛹‍♂
⛹‍♀🏋‍♂ 🏋‍♀ 🚴‍♂ 🚴‍♀ 🚵‍♂ 🚵‍♀ 🏎 🏍 🤸‍♂ 🤸‍♀ 🤼‍♂ 🤼‍♀ 🤽‍♂ 🤽‍♀
🤾‍♂ 🤾‍♀ 🤹 🧗‍♀ 🧗‍♂ 🧘‍♀ 🧘‍♂
👨‍⚕ 👩‍⚕ 👨‍🎓 👩‍🎓 👨‍🏫 👩‍🏫 👨‍⚖ 👩‍⚖ 👨‍🌾 👩‍🌾 👨‍🍳 👩‍🍳 👨‍🔧 👩‍🔧
👨‍🏭 👩‍🏭 👨‍💼 👩‍💼 👨‍🔬 👩‍🔬 👨‍💻 👩‍💻 👨‍🎤 👩‍🎤 👨‍🎨 👩‍🎨 👨‍✈ 👩‍✈
👨‍🚀 👩‍🚀 👨‍🚒 👩‍🚒 👮‍♂ 👮‍♀ 🕵‍♂ 🕵‍♀ 💂‍♂ 💂‍♀ 👷‍♂ 👷‍♀ 👨‍👩‍👦 👨‍👩‍👧 👨‍👩‍👧‍👦 👨‍👩‍👦‍👦 👨‍👩‍👧‍👧
👨‍👨‍👦 👨‍👨‍👧 👨‍👨‍👧‍👦 👨‍👨‍👦‍👦 👨‍👨‍👧‍👧 👩‍👩‍👦 👩‍👩‍👧 👩‍👩‍👧‍👦 👩‍👩‍👦‍👦 👩‍👩‍👧‍👧 👨‍👦 👨‍👦‍👦 👨‍👧
👨‍👧‍👦 👨‍👧‍👧 👩‍👦 👩‍👦‍👦 👩‍👧 👩‍👧‍👦 👩‍👧‍👧
🚂 🚃 🚄 🚅 🚆 🚇 🚈 🚉 🚊 🚝 🚞 🚋 🚌 🚍 🚎 🚐
🚑 🚒 🚓 🚔 🚕 🚖 🚗 🚘 🚙 🚚 🚛 🚜 🚲 🛴 🛵 🚏
🛣 🛤 ⛽ 🚨 🚥 🚦 🚧 🛑 ⚓ ⛵ 🛶 🚤 🛳 ⛴ 🛥 🚢
✈ 🛩 🛫 🛬 💺 🚁 🚟 🚠 🚡 🛰 🚀 🛸
🌍 🌎 🌏 🌐 🗺 🗾 🏔 ⛰ 🌋 🗻 🏕 🏖 🏜 🏝 🏞 🏟 🏛
🏗 🏘🏙 🏚 🏠 🏡 🏢 🏣 🏤 🏥 🏦🏨 🏩 🏪 🏫 🏬 🏭
🏯 🏰 💒 🗼 🗽 ⛪ 🕌 🕍 ⛩ 🕋 ⛲ ⛺ 🌁 🌃 🌄 🌅 🌆 🌇
🌉 ♨ 🌌 🎠 🎡 🎢 💈 🎪 🎭 🖼 🎨 🎰 🚪 🛏 🛋 🚽 🚿 🛁
🍇 🍉🍈 🍊 🍋 🍌 🍍 🍎🍏 🍐 🍑 🍒 🍓 🥝 🍅 🥥 🥑 🍆
🥔 🥕 🌽 🌶 🥒 🍄 🥜 🌰 🍞 🥐 🥖 🥨 🥞 🧀 🍖🍗 🥩 🥓
🍔 🍟 🍕 🌭 🥪 🌮 🌯 🥙 🥚 🍳 🥘 🍲 🥣 🥗 🍿 🥫 🍱 🍘 🍙
🍚 🍛 🍜 🍝 🍠 🍢 🍣 🍤 🍥 🍡 🥟 🥠 🥡 🍦 🍧 🍨 🍩 🍪
🎂 🍰🥧 🍫 🍬 🍭 🥢 🍽 🍴 🥄 🔪 🏺
🍮 🍯 🍼 🥛 ☕ 🍵 🍶 🍾 🍷 🍸 🍹 🍺 🍻 🥂 🥃 🥤
🏁 🚩 🎌 🏴 🏳
💥 💦 💨 💫 🌡 ☀ 🌝 🌞 ⭐ 🌟 🌠 🌑 🌒 🌓 🌔 🌕 🌖
🌗 🌘 🌙 🌚 🌛 🌜 ☁ ⛅ ⛈ 🌤 🌥 🌦 🌧 🌨 🌩 🌪 🌫
🌬 🌀 🌈 🌂 ☂ ☔⛱ ⚡ ❄ ☃ ⛄ ☄ 🔥 💧 🌊
💐 🌸 💮 🏵 🌹 🥀 🌺 🌻 🌼 🌷
🌱 🌲 🌳 🌴 🌵 🌾 🌿 ☘ 🍀 🍁🍂 🍃 🍁 🍂
🐵 🐒 🦍 🐶 🐕 🐩 🐺🐈 🦁 🐯 🐅 🐆 🐴 🐎
🦄 🦓 🦌 🐮 🐂 🐃 🐄 🐷 🐖 🐗 🐽 🐏 🐑 🐐
🐪 🐫 🦒 🐘 🦏 🐭 🐁 🐀 🐹 🐰🐇 🐿 🦔 🦇
🐻 🐨 🐼 🐾 🦃 🐔🐓 🐓 🐣 🐤 🐥 🐦 🐧 🕊
🦅🦆 🦉 🐸 🐊🐢 🦎 🐍🐲 🐉 🦕 🦖 🐳 🐋🐬
🐟 🐠 🐡 🦈 🐙 🐚 🦀 🦐 🦑 🐌
🦋 🐛 🐜 🐝 🐞 🦗 🕷 🕸 🦂
🛒👓 🕶 👔 👕 👖 🧣 🧤 🧥 🧦 👗 👘 👙 👚 👛 👜 💍
👝 🛍 🎒 👞 👟 👠 👡 👢 👑 👒 🎩 🎓 🧢⛑ 📿 💄 💎
🔇 🔈 🔉 🔉📢 📣 📯 🔔 🔕 🎼 🎵 🎶 🎙 🎚 🎛 🎤
🎧 📻 🎷 🎸 🎹 🎺 🎻 🥁 📱 📲 ☎ 📞 📟 📠 🔋
I hope you  like this information: